When you hear the word "Live wedding painting", what do you think of?
And when we talk to you about "live wedding painting"?
Before meeting Elizabeth Genius, I had no idea that "live wedding painting" existed.
When I found out what it is and how it works, I was so inspired that I wanted to write a little article about it.
I think every wedding couple should know what it is and consider it.
Wedding painting means:
Outdoor

 painting at a wedding.

It's about 

capturing a particular moment

 of the wedding.

Concretely, this means that the artist paints one or more pictures of the bride and groom, the environment and the wedding guests.

It is an 

eternal memory

.

And it's a 

beautiful gift

 that can be given to the bride and groom or that the couple can give to themselves.
Who is Elisabeth, and how does she work?
Elisabeth painted all her life.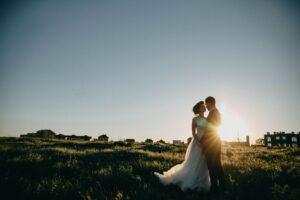 After her baccalaureate, she never imagined that painting could be a career choice.
It was not until 2013 when her company sent her to Sweden for a project, that she discovered "painting" as a professional option.
In 2018, she travelled to the United States, to Charleston, where she wanted to meet the artists she admired in South Carolina.
She also has the possibility of exhibiting her paintings in a gallery.
During this trip, she discovered this new trend of wedding painting called English wedding painting.  
When she returns to Germany, she knows: this is what she wants to do!
Why acrylic paint?
The advantage of acrylic paint is that the paint dries very quickly, and you can easily repaint and correct what you have already painted.
Engage Elizabeth
Elisabeth offers two types of services.
live wedding painting
You discuss with Elisabeth in advance which scene which images you want as a painting.
Is this the ceremony? The cut of the cake? The dance? Want guests in the photo?
When everything is confirmed, Elisabeth arrives at the wedding venue about two hours early.
She begins to paint the background.
During the wedding, she takes photos of the different moments and paints the moment/image you have agreed on.
Live painting is also a good communication tool. The guests pass in front of the wedding painter, talk to each other and exchange their ideas on the painting.
This is where good conversations can take place between both families and friends.
Painting based on a photo
You can also send a photo of your wedding to Elisabeth, and she will paint it according to her painting style. Can therefore modify the painting according to the ideas of the couple.
You can contact Elisabeth through Instagram or her website.
She speaks German, English and a little Spanish. You can also look in her shop, where she paints many other beautiful portraits and designs.
Today we are going to the museum to see photos representing special moments. A painting has always been the representation of a particular moment.
Photos can be faded or erased, and videos always require access to a computer. Still, paintings last forever if properly cared for and treated.